While the recent pandemic has removed much of the traffic from the roads, it has led to an unusual increase in traffic on the internet. Online services are reporting a huge increase in the number of visitors and requests, making it tough to keep up with seamless service delivery. While service providers and experts say the internet can hold up for now, organizations are already implementing measures to prevent network congestion and interruptions in service during the continuing pandemic.
Delivering the right user experience while handling heavy traffic is crucial to sustaining and growing your business during these times. A synthetic monitoring solution can help a great deal in this regard. If you haven't implemented it yet, this is the right time to try one. Let's take a closer look at a few ways user experience monitoring can help mitigate the impact of these tough times on your online business applications.
1. How fast is your application responding to a high number of requests?
If you run an online store, streaming or gaming site, or any other small to medium-sized online business, you've probably already seen a surge in users and perhaps some glitches in performance, too. With synthetic transaction monitoring, you will be able to pinpoint issues that are negatively impacting the user experience.
A synthetic monitoring tool allows you to simulate, record, and re-perform the recorded user interactions with your web application. This means you're receiving near real-time insights into how fast your application is responding to a click or a slide. Given the number of users interacting with your site, this insight is essential. Moreover, synthetic monitoring solutions typically use real browsers such as Firefox, so you know that the app experience you're getting is the same experience your actual users are getting.
2. Performance is not ideal, but why?
That is because we have only identified the response times of various transactions performed by a user. We need to be able to pinpoint the exact source of the problem if the application responds slowly or crashes frequently to be able to effectively address it. Most synthetic monitoring tools are able to do that, i.e., point to the slow transactions (network latency, DNS lookup time, response time, etc.) and provide visibility into the webpage size (HTML, CSS, images, etc.).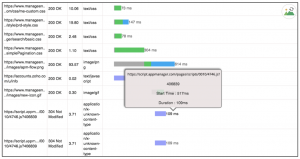 Since content-heavy webpages usually have higher load times, try to keep page designs to a minimal if the quality of experience deteriorates.
3. Securing the essentials first
In any business application, some interactions are more important than others. For example, a form used to collect user details or carry out payment operations are critical areas where performance cannot be compromised. User path flows through the web application involved in such interactions should be closely monitored for performance problems at all times. Problems with these functions can directly lead to the loss of potential customers or revenue.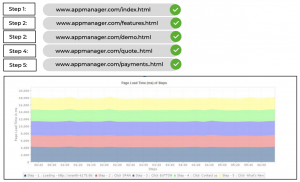 Make sure your solution allows a healthy limit of transactions that you can monitor, so every critical transaction is captured. Investing in a synthetic monitoring tool will help push you through these difficult times and will pay off in the long run.
4. Flex those thresholds and keep minimal polling intervals
The last thing you want is to discover a problem five minutes after it has occurred. Make sure you monitor critical path flows, if not in real time then with the shortest possible polling interval, especially now with the increase in internet traffic and user interactions on your website. This helps in identifying issues as and when they occur, and preventing any loss of service because of a delay in acknowledging the problem. You may also want to adjust your threshold configurations for alerts to the safest maximum value since all the services will be functioning at full capacity.
5.Preparing for performance delivery for the future
While generating revenue is usually the primary objective of any business, in times like these, keeping the business alive and functioning for its users is more important. To be able to do this, performance analysis of the previous months or weeks is essential.
Insights such as average availability and response time of your application from different geographies, average downtime, average load times, outage reports, etc. can help you understand how your application is coping with requests and whether it requires any upgrades. For example, it's possible that your web application requires upgrades in the database and application servers in order to process and deliver requests. An informed decision like this can only be made with historical performance analysis offered by synthetic monitoring tools.
While the pandemic has brought our daily lives to a standstill and severely impacted businesses worldwide, organisations are trying everything they can to contain the loss of revenue and potential customers, and sustain business through these difficult times. At ManageEngine, we hope to help our customers in this regard. Should you require any help with your network, infrastructure, applications, or firewalls, write to us at eval-apm@manageengine.com, and we'll be glad to help in any way we can.
Soucer : Link